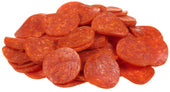 Patrick Cudahy Pavone Dry Sliced Spicy Cup and Crisp Sausage Pepperoni, 5 Pound -- 2 per case.
Rewards Eligible
Cash Rebates
Patrick Cudahy Pepperoni Pepperoni Sliced, spicy cup and crisp pepperoni Cups and crisps along edges when heated Good source of protein 5 lb. (2.27 kg) each 2 packs per case The Patrick Cudahy Pavone Sliced Spicy Cup and Crisp Pepperoni will make a great pizza topping. When exposed to heat, it can cup and crisp along the edges, providing a perfect way to hold beads of oil or spices, thereby increasing overall flavor. Fortified with protein, it makes a healthy option for kids and adults alike. This Patrick Cudahy pepperoni bulk pack is a great buy for diners, cafeterias, and delis.
| | |
| --- | --- |
| Manufacturer: | Smithfield Farmland Sales Corp |
| GTIN: | 20043200154313 |
| SKU: | 22977800 |
Sign up to view additional product details and see reviews
Get served the rewards you deserve. It's free and easy to join.
Sign Up For Rewards
Already have an account? Sign In
Buy it now: