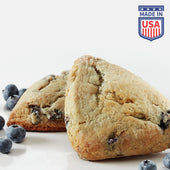 Pillsburry Freezer to Oven Blueberry Scone 3.75 ounce each -- 96 per case.
Rewards Eligible
Cash Rebates
Pillsbury Freezer to Oven Scone Dough Blueberry Scone Dough Freezer to oven blueberry scone dough Dual texture with soft, moist center and crispy outer crust Zero trans fat No artificial flavors or colors 3.75 oz. (106 g) each 96 packs each case With sweet, juicy blueberry chunks blended throughout the dough, the Pillsbury Place & Bake Frozen Blueberry Scone Dough is just delicious. This Pillsbury freezer to oven scone dough is formulated to produce sweet and tender scones every time with a moist inside and crispy crust outside. It does not need any thawing or prep and can be simply baked and served. This bulk pack of blueberry scone dough includes 96 packs per case. Frozen scone dough in an easy, freezer-to-oven format made with sweet, juicy blueberries blended throughout. Pillsbury scones consistently deliver scratch-like quality with the dual texture of moist inside and a crisper crust. No thawing required: just separate, place, bake, and serve. For crediting in USDA Child Nutrition Programs: 2 ounce equivalent grain. This non-whole grain product may qualify with a whole grain exemption. Preparation instruction: PLACE FROZEN SCONES ON PARCHMENT LINED BAKING SHEET. BAKE TIMES WILL VARY. SCONES ARE DONE WHEN SURFACE COLOR IS UNIFORM GOLDEN BROWN AND EDGES ARE SET. COOL BEFORE REMOVING FROM BAKING SHEET.CONVECTION 325F 22-26 M ROTATE HALFWAY THROUGH BAKE, RACK 350F 22-26 M, STANDARD/REEL 375F 29-33 M Pillsbury Freezer-to-Oven Scone Dough, 3.75 oz, Blueberry ZT
| | |
| --- | --- |
| Manufacturer: | General Mills Foodservice |
| GTIN: | 10094562081505 |
| SKU: | 132864 |
Sign up to view additional product details and see reviews
Get served the rewards you deserve. It's free and easy to join.
Sign Up For Rewards
Already have an account? Sign In
Members near you purchased from:
Buy it now: