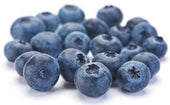 Commodity Fruit Whole Cultivated Blueberry, 30 Pound.
Commodity Fruit Cultivated Blueberry Blueberries Rich in antioxidants Have a high water content and blue-purple color 30 lb. (13.61 kg) each Rich in antioxidants, the Commodity Fruit Whole Cultivated Blueberries are healthy and yummy. Cultivated blueberries have high water content and a beautiful purple-blue color, which is ideal for a variety of desserts and baked treats. These not-so-sweet berries can be added to mocktails, smoothie bowls, or fruit salads. This bulk pack is a great buy for restaurants, patisseries, and retail shops.
| | |
| --- | --- |
| Manufacturer: | Dot Foods |
| GTIN: | 10684476003887 |
| SKU: | 22989845 |
Sign up to view additional product details and see reviews
Get served the rewards you deserve. It's free and easy to join.
Sign Up For Rewards
Already have an account? Sign In
Members near you purchased from:
Buy it now: