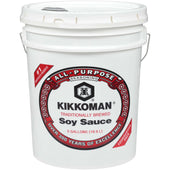 Kikkoman Soy Sauce, 5 Gallon.
Kikkoman Soy Sauce Soy Sauce All-purpose soy sauce Contains soy Kosher certified 5 gal. (640 fl. oz.) pail The Kikkoman Soy Sauce enhances the overall flavor of food. Made with water, soybean, rice, and salt, this traditionally brewed soy sauce is ideal for use in Asian-inspired recipes. Use this versatile soy sauce in recipes, serve as a dip, or marinate meat and poultry with it. The Kikkoman bulk case will be an ideal buy for food trucks, cafes, and diners. TRADITIONALLY BREWED. ALL PUROPSE SEASONING. ADDS DEPTH AND APPEAL TO ALL KINDS Preparation type: READY TO EAT Preparation instructions: POUR & SERVE5 GAL TUB SOY SAUCE
Amount Per Serving
% Daily Value*
* The % Daily Value (DV) tells you how much a nutrient in a serving of food contributes to a daily diet. 2,000 calories a day is used for general nutrition advice.
| | |
| --- | --- |
| Manufacturer: | Kikkoman International |
| GTIN: | 10041390001823 |
| SKU: | 2974156 |
Sign up to view additional product details and see reviews
Get served the rewards you deserve. It's free and easy to join.
Sign Up For Rewards
Already have an account? Sign In
Members near you purchased from:
Buy it now: