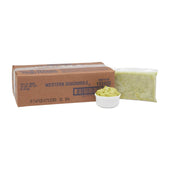 Simplot Western Style Guacamole, 1 Pound -- 12 per case.
Rewards Eligible
Cash Rebates
Simplot Harvest Fresh Avocados - Western Guacamole 12/1 We start with the finest hand-picked Hass avocados, then let them ripen to perfection. What you get is natural goodness and consistency every time with seamless recipe integration across the menu. Preparation instruction: For best quality, thaw unopened bag for 15-24 hours in the refrigerator (40°F). Opened Bag: Keep surface covered to prevent browning. Use refrigerated pulp within 7 days. Once thawed, do not refreeze.
| | |
| --- | --- |
| Manufacturer: | JR Simplot Company |
| GTIN: | 10071179193425 |
| SKU: | 189841 |
Sign up to view additional product details and see reviews
Get served the rewards you deserve. It's free and easy to join.
Sign Up For Rewards
Already have an account? Sign In
Members near you purchased from:
Buy it now: