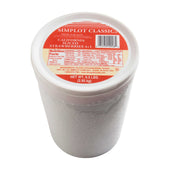 Simplot Classic Sliced Strawberry Fruit, 6.5 Pound -- 6 per case.
Rewards Eligible
Cash Rebates
Simplot Simple Goodness Strawberries Sliced Strawberries Sliced strawberries with sugar Sweetened with one part sugar for four parts fruit Ready-to-use, no washing or peeling needed 0 g trans fat Low sodium Gluten free Corn free Ideal for K-12 customers Sulfite free Lacto-Ovo Vegetarian Vegan Made in USA Shelf life: 720 days Storage temperature: -10° F to 10° F Thaw under refrigeration and serve The Simplot Simple Goodness Sliced Strawberries are full slices of strawberries sweetened with one part sugar for four parts fruit. This ready to use product can be served anytime as a snack or part of a dessert. The bulk case is ideal for supermarkets, restaurants, dessert shops, bakeries and cafes. Selected from the top growing regions in the U.S. and abroad, Simplot fruit delivers all the color and flavor of fresh, without the costly, time-consuming prep and waste. We offer the best taste, texture, and appearance to help you plate delicious creations for your fruit-loving patrons. Four parts strawberries to one part sugar. Preparation instruction: Thaw and serve. Thaw under refrigeration, 10-15 hours per 6.5# container. Best to stir contents occasionally to keep strawberries mixed throughout. This will increase yields. Simplot Simple Goodness Fruit - Strawberry Sli 4+1 6/6.5#Tub
| | |
| --- | --- |
| Manufacturer: | JR Simplot Company |
| GTIN: | 10071179199281 |
| SKU: | 151790 |
Sign up to view additional product details and see reviews
Get served the rewards you deserve. It's free and easy to join.
Sign Up For Rewards
Already have an account? Sign In
Members near you purchased from:
Buy it now: