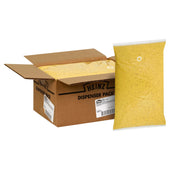 Heinz Honey Mustard, 1.5 Gallon -- 2 per case.
Rewards Eligible
Cash Rebates
Heinz Honey Mustard Honey Mustard Ready-to-use honey mustard 0 g trans fat Contains eggs and soy Kosher certified 1.5 gal. (192 fl. oz.) each 2 bags per case The Heinz Honey Mustard enhances the flavor of sandwiches, burgers, and wraps. This rich mustard sauce comes with a dash of honey for sweetness. Use this honey mustard as a condiment or a dip on the side with fries and appetizers. Packed in dispenser bags to minimize wastage, the bulk case of Heinz honey mustard will be ideal for concession stands, restaurants, and cafes. HEINZ HONEY MUSTARD is the perfect addition to any sandwich and great for dipping chicken fingers. Strengthen your condiment station with quality brands from the industry leader. Minimal packaging and reduced product waste make our dispenser format the pr Preparation instruction: See case packaging for more information about Preparation and Cooking SuggestionsHEINZ MUSTARD HONEY MUSTARD
| | |
| --- | --- |
| Manufacturer: | Kraft Heinz Company |
| GTIN: | 10013000980453 |
| SKU: | 161698 |
Sign up to view additional product details and see reviews
Get served the rewards you deserve. It's free and easy to join.
Sign Up For Rewards
Already have an account? Sign In
Members near you purchased from:
Buy it now: