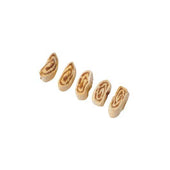 Rich Products Traditional Cinnamon Sweet Roll Dough, 2.25 Ounce -- 120 per case.
Rewards Eligible
Cash Rebates
Richs Products Cinnamon Roll Dough Cinnamon Roll Dough Ready-to-bake cinnamon roll dough 0 g trans fat Contains eggs and wheat May contain milk, soy, and sesame KOF-K Kosher Dairy certified Frozen shelf life: 210 days Keep frozen for later use 2.25 oz. (63.79 g) each 120 rolls per case The Richs Products Traditional Cinnamon Sweet Roll Dough is a ready-to-bake pastry roll. Made with wheat flour and eggs, this dough is infused with a sweet cinnamon flavor. Pre-prepared for convenience, this cinnamon sweet dough saves valuable prep time and helps in quick kitchen-to-table service. An ideal buy for cafes, bistros, and dessert chains, the bulk case contains 120 Richs Products cinnamon roll dough. Traditional cinnamon roll with moist sweet dough a hint of spice and swirls of mild sweet cinnamon paste good quality roll at a great price. Preparation type: BAKE Preparation instructions: 1. KEEP DOUGH FROZEN AT 0 F OR BELOW UNTIL READY TO USE. 2. REMOVE FROZEN DOUGH PIECES AND PLACE 1" APART ON PARCHMENT PAPER LINED FULL SHEET PANS. GREASE PAN EDGES FOR CLUSTERED SOFT SIDED SWEET ROLLS. PLACE 2" APART FOR INDIVIDUAL ROLLS: FULL SHEET PAN PANNING CHART -------------------------------------------------- OZ. INDIVIDUAL CLUSTERED ------------------------------------------------------------- 2.25 OZ. 3 X 5 5 X 8 3. COVER THE INDIVIDUAL PANS WITH OILED PLASTIC OR COVER FULL PAN RACK WITH A PLASTIC PAN RACK COVER TO PREVENT PRODUCT FROM DRYING OUT. 4. PLACE PRODUCT IN RETARDER 40 F AND DEFROST OVERNIGHT OR AT ROOM TEMPERATURE 45 - 60 MINUTES. 5. OPTIONAL: REMOVE DOUGHS THAT HAVE BEEN IN THE RETARDER OVERNIGHT AND WARM TO ROOM TEMPERATURE 30 - 45 MINUTES. REMOVE PLASTIC COVER. 6. PLACE IN PROOFER (95 F - 110 F 85% HUMIDITY) AND PROOF UNITL DOUBLE IN SIZE. 7. BAKE IN A PREHEATED OVEN UNTIL ROLLS ARE GOLDEN BROWN: 325 F CONVECTION OVEN 375 F ALL OTHER TYPES OF OVENS 8. REMOVE FROM OVEN AND BRUSH WITH RICH'S GLAZE 'N SHINE (PC 21784). 9. COOL SLIGHTLY AND ICE WITH RICH'S CREME CHEESE ICING (PC 20036) OR RICH'S WARM HEAT N ICE (PC 21952). 10. HOLD COOLED BAKED ROLLS COVERED AT ROOM TEMPERATURE TO PREVENT DRYING OUT. SERVE OR PACKAGE AND LABEL FOR SELLING. TRADITIONAL CINNAMON ROLL DOUGH
Amount Per Serving
% Daily Value*
* The % Daily Value (DV) tells you how much a nutrient in a serving of food contributes to a daily diet. 2,000 calories a day is used for general nutrition advice.
| | |
| --- | --- |
| Manufacturer: | Rich Products Co |
| GTIN: | 00049800034396 |
| SKU: | 153631 |
Sign up to view additional product details and see reviews
Get served the rewards you deserve. It's free and easy to join.
Sign Up For Rewards
Already have an account? Sign In
Members near you purchased from:
Buy it now: