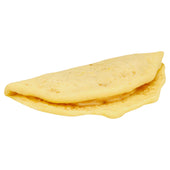 Michael Foods Papettis Cheddar Cheese Omelet, 3.5 Ounce -- 72 per case.
Rewards Eligible
Cash Rebates
Michael Foods Cheese Omelet Cheese Omelet Single-fold, pre-cooked omelets with cheddar cheese Gluten free Contains eggs, milk, sulphites and its derivatives 6" x 3" (15.24 cm x 7.62 cm) each 3.5 oz.(99.22g) each 72 omelets per case The Michael Foods Cheddar Cheese Omelet makes for a healthy and delicious breakfast option. Made with real egg, this pre-cooked cheddar cheese omelet saves time and labor when prepping for bulk orders. This Michael Foods cheese omelet bulk pack is ideal for restaurants, breakfast outlets and retail shops. Conveniently heat and serve, perfect for kitchens with limited equipment, and labor. Build guest satisfaction with consistent appearance and taste. Single fold omelet filled with cheddar cheese. Preparation instruction: Preheat Temp 250°F; Time from Frozen 24 - 27 min; Time from Thawed 15 - 20 min; Preheat oven. Placea single layer of product in full-size steamer pan sprayed with non-stick cooking spray; do not cover. Bake until thoroughly heated.Papetti's® Table Ready® Fully-Cooked 6" x 3" Singlefold Omelet Filled with Cheddar Cheese with Medium Browning, 72/3.5 Oz
| | |
| --- | --- |
| Manufacturer: | Michael Foods |
| GTIN: | 10746025901355 |
| SKU: | 149893 |
Sign up to view additional product details and see reviews
Get served the rewards you deserve. It's free and easy to join.
Sign Up For Rewards
Already have an account? Sign In
Members near you purchased from:
Buy it now: