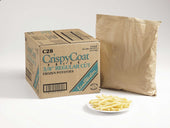 Lamb Weston Crispy Coat Regular Cut Potato Fry, 5 Pound -- 6 per case.
Rewards Eligible
Cash Rebates
Lamb Weston Potato Fry Potato Fries 3/8 in. regular-cut, frozen potato fries Evenly coated with batter to ensure crispiness Longer holding time Product of the USA 0 g trans fat 0 mg cholesterol Contains soy and its derivate Frozen shelf life: 720 days Keep frozen for later use 5 lb. (2.27 kg) each 6 packs per case The Lamb Weston Crispy Coat Potato Fries make for a great snack. Evenly coated with batter, these fries have a longer holding time. These regular-cut fries can be served alongside burgers and sandwiches or can also be paired with a dip. Available in a bulk case of 6 packs, the Lamb Weston Crispy Coat Potato Fries are ideal for cafes, diners, and food trucks. CrispyCoat Fries were designed to meet all of today's food service needs--excellent taste, crispy texture & great holdability to deliver increased profits to any operation. These fries are lightly seasoned to enhance natural flavors.'' Preparation instruction: Deep Fry at 345-350F for 3-1/4 - 3-3/4 minutes; Convection Oven at 400F for 9 - 12 minutes ; Conventional Oven at 400F for 20 - 25 minutes. 3/8 Regular Cut Frozen Potatoes
| | |
| --- | --- |
| Manufacturer: | Lamb Weston Holdings Inc |
| GTIN: | 10044979003287 |
| SKU: | 150861 |
Sign up to view additional product details and see reviews
Get served the rewards you deserve. It's free and easy to join.
Sign Up For Rewards
Already have an account? Sign In
Buy it now: